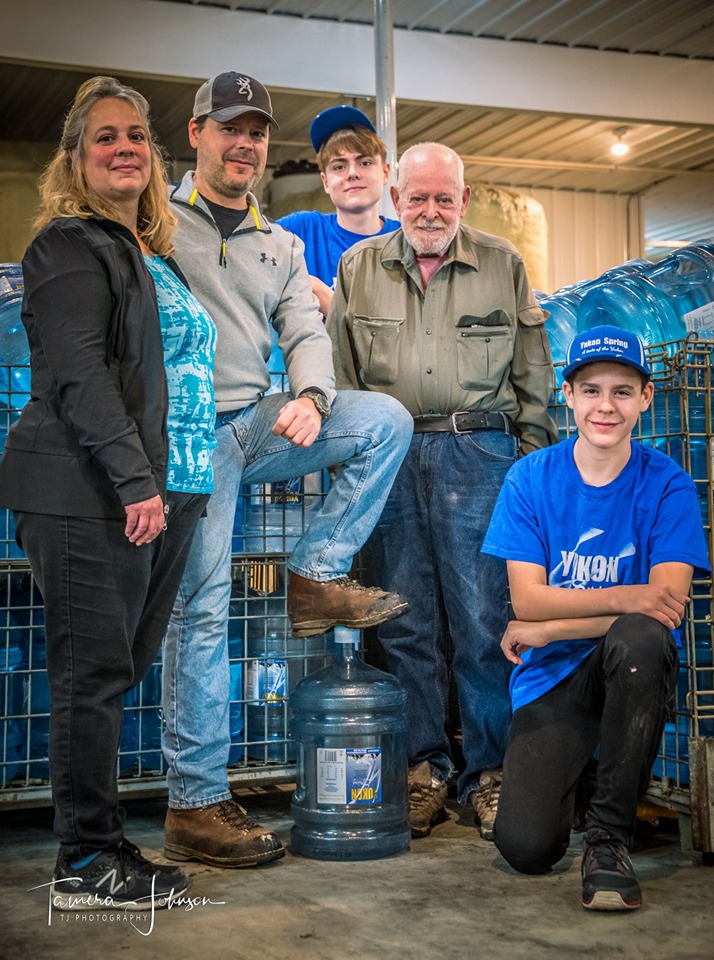 Our next #LookInside feature gives us great joy as it shares a story of a very inspiring family representing four generations of commitment to their local family business. We invite you inside Yukon Spring Inc.
"Many people come to the Yukon to make their own way and that's how Yukon Spring developed", Tara Sheridan, CEO of Yukon Spring shares. In 1972, her Father Paul Sheridan purchased a piece of land and soon discovered a series of natural springs on the property. Driven by the entrepreneurial spirit of the Yukon, he decided to start a business and offer Yukoner's fresh, local water. 
What started out as a small family business in 1988, has grown to a staff of five people, with family always lending a helping hand. Lending a hand is something that this business knows all too well, since the early days Paul's children Tara and Nikki were always lending a helping hand when he needed to get work done - and that tradition is still going strong we learn. 
Today the company is lead by Tara Sheridan but her husband, Dion Benoit and support from their two sons, Hyden and Ryder. They are joined by 3 full-time and 2 part-time employees who provide the labour and support the business needs to operate on a day-to-day basis.
"Yukon Spring relies on a combination of technology and old-fashioned hard work to produce the water that is enjoyed by residents and tourists alike. As the company moves forward, we are working to make changes to streamline our operations and build capacity", Tara shares with us. 
When speaking directly to Tara you can appreciate how much this business appreciates its customers. "This business has seen changes over the years with management and staff all serving their time, and with new management comes new approaches to tackling challenges, new policies, and different approaches. Without our customers we wouldn't have a business." 
Today bottled water is everywhere, but it's not all the same. Some companies filter tap water, but at Yukon Spring they utilize natural springs on the property to provide a unique product to our customers. It's really what sets them apart. 
"Our water starts high in the Yukon Mountains and as it travels underground to the spring, it picks up natural minerals and deposits that are unique to the Yukon, giving it a distinctive and refreshing taste. The water is filtered and ozonated to remove any impurities and then bottled. The geography gives its taste, but it's the pride and beauty of the Yukon that inspired the label design." 
When we advertise "A taste of the Yukon", we really mean it, and we want to share that with the world, Tara passionately shares. They are committed to keeping the water as pure as possible by filtering the water and then ozonating it to ensure it is safe for consumption. 
As passionate business owners, they are equally as passionate about the community. Tara lets us know that doing business in the North has its perks. "When you're having challenges, people are always willing to help out or point you in the right direction; even if it's not a direct benefit to them. Operating a business always has challenges, but when you can work with people, as opposed to working against corporations, it makes it that much easier to work through the problems and focus on what really matters."
That same sense of community helps grow local business because customers know that when they are buying a bottle of Yukon Spring water, the profits stay right here in Whitehorse and are used towards improving the business, employing local residents, and giving back to the community. Giving back to the community also means supporting the local MS Society because of the direct effect it has had on the family, and donating water for local events.
"As a family-owned company we believe in developing relationships with our customers and are fortunate to be connected to so many people through our product. Our customers deserve the best job that we can do and the best quality product because we would never want to disappoint our family of customers, suppliers, and employees." 
We asked Tara what the future looks like for Yukon Spring? 
"A successful business has to be efficient and adaptable, and that's exactly what we are focusing our efforts on these days. We've been working hard to make our operations more efficient so we can make the most out of our resources. On the adaptable front, we're looking at opportunities to combat environmental concerns and expand our presence past the boarders of the Yukon and share our product with the outside world! We want to contribute to putting Yukon products on the national market.
We want to be part of the Yukon's rich history that has been built by many local families. Our city and Territory were built by hard working people with an entrepreneurial spirit and we want to continue to provide year-round employment and bring more money into the Territory. No matter what happens we plan to be around and sharing our great tasting water with generations of Yukoners to come." 
So where can you purchase this local product? We encourage you to visit their website to find the products, services and local retail partners: www.ykspring.com.
Outside of working hours, you can find Tara and family enjoying the outdoors of our vast pristine wilderness. Visits to Alpine Organic Bakery Yukon to stock up on fresh baked bread is also a regular local regime! 
Thank you, Tara and family, for allowing us inside your local business, we are grateful for your commitment to supplying Yukoners with the best tasting water, and thank you for your family's dedication to our community. 
Connecting with Yukon Spring on Facebook can be a fun experience! Post a "self-quenching selfie" with your bottle of Yukon Spring to let the Sheridan's know you are enjoying the world's tastiest natural spring water. 
*Photos by Tamera Johnson - TJ photography