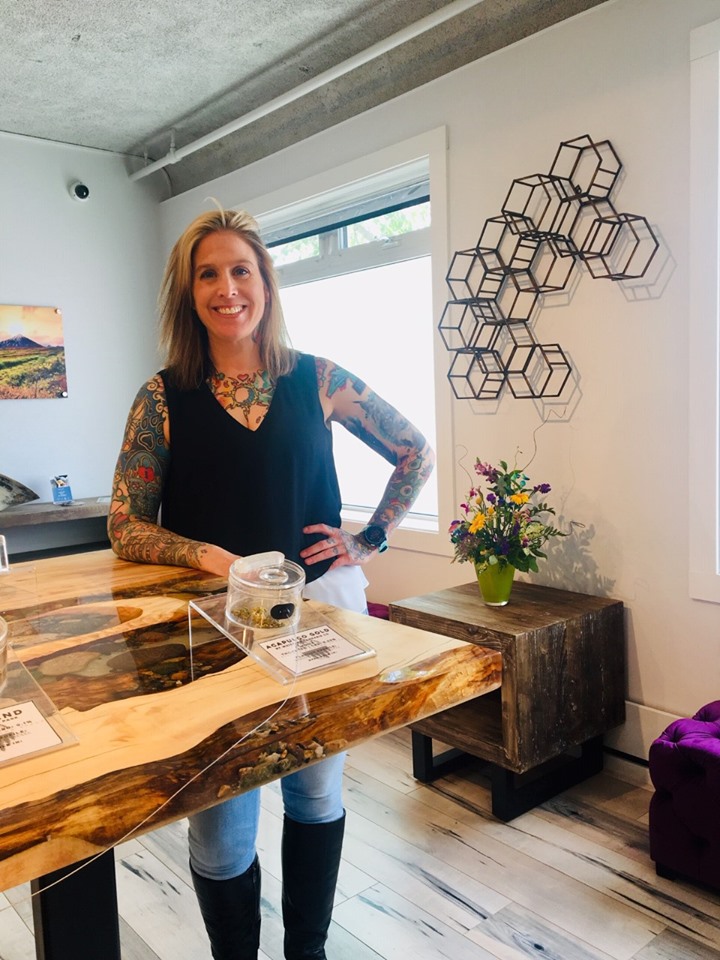 Our next #LookInside feature profiles the culmination of love, dedication and celebration for all things cannabis – Triple J's Canna Space opens with room to grow in the heart of downtown Whitehorse. 
Precedent-setting entrepreneurs Jordi and Jeremy Jones have lived in the Yukon for more than 30 years, and relentlessly pursued a dream to define Yukon cannabis culture. The couple blazed the trail and assembled a team of cannabis ambassadors to pioneer the premiere private cannabis retail experience in Whitehorse. 
"Embarking on our quest to open Yukon's inaugural cannabis retail storefront was fraught with challenges at every step," said Jordi, describing the arduous four-year journey. They worked closely with multiple levels of government as legislation was being developed. "Attempting to educate those unfamiliar with the cannabis industry proved to be our first hurdle. From there, we worked to change perceptions that cannabis was not like heroin or plutonium, that it was a medicinal plant, and one that should not have been persecuted for nearly 100 years." 
On April 17, 2019 – exactly six months after cannabis legalization in Canada – Triple J's Canna Space made history by earning the first private retail license North of 60, and opened its doors to the public the next day. 
Triple J's Canna Space is more than just Yukon's premiere private retail pot shop, Jordi explained. "It is the gold nugget nestled in the heart of Downtown Whitehorse at 211 Wood Street. We are a collective – a hive of busy bees spreading the gospel of responsible, legal cannabis consumption." 
In the old Yukon News building on the corner of Wood and Third, Triple J's Canna Space is fresh and welcoming, with modern furniture and cabinetry on new hardwood floors. Crisp displays showcase a wide selection of products including various strains of cannabis flowers, plants and oils, paraphernalia, and educational literature. 
The second floor is dedicated to the budding horticulturalists or master growing enthusiasts. "We work with local growers to ensure we have the best quality products and equipment for home growing needs, including tents, lighting, ballasts, nutrients and soil, starter kits, educational books and more," said Jordi. 
"The friendly and knowledgeable staff is our greatest asset, and their happiness is infectious," she explained. "Our team is comprised of 10 awesome staff: one Shop Manager, one Reception Manager, two Receptionists, three Cannabis Sales Specialists and three Dispensing Technicians." 
Triple J's Canna Space's two-storey Wood street building is big – 6250 square feet – and will provide room to grow. Originally, the Jones's did not intend to purchase a building for this business. "We wanted to offer cannabis retail in our Main Street location, but our landlords were not supportive." They had many doors close on them for leasing 
opportunities, and discovered that the negative stigma attached to cannabis was a barrier. "It was a discouraging process." 
When the owner of 211 Wood Street offered a private sale, the Jones's knew they had to take it. Although many people were surprised that they were not bridging the two businesses under one roof, the Jones's do not want to amalgamate the two businesses, which are distinct, sister companies with different business models. 
"Triple J's on Main focuses on music, tattoos, piercings, vaping, paraphernalia and music accessories. Triple J's Canna Space is 100% dedicated to cannabis." 
Jordi is proud that Canna Space's offers lower prices on all products than their competition: Yukon Government. "We understand that pricing has been a barrier for many to access legal cannabis, and we wanted to set a precedent in our caliber of service." 
Triple J's Canna Space offers a variety of services. In addition to their stunning and bright store, they offer online ordering at www.triplejscannaspace.ca. Customers can place orders for pickup and payment at Canna Space. 
They also offer private memberships, "which has its privileges!" Jordi explained. "A few of the perks include a private consultation with Jeremy Jones on the safe use of cannabis, direct messaging about new products in shop, access to exclusive events and workshops, and an electronic photo ID card with microchip to skip the line." 
"We are also proud to offer weekday assistance with online browsing and consultations in a mobility-friendly access door. Patrons may ring the doorbell at the street level entrance, and a staff member will join them in an office for this catered experience." 
Triple J's Canna Space partnered with Vancouver-based lifestyle apparel company TAGULAN and carries an ethical, eco-friendly and super soft clothing line. "Focusing on energy and water reduction, every stage of the production process is analyzed to minimize our ecological footprint making clothes your heart, soul, body and the planet can feel great about," said Jordi. 
The duo also looks forward to the day they can carry Yukon-grown and crafted cannabis products to keep money in the Yukon grow the local economy. 
The future looks bright for Triple J's Canna Space. Once edibles, topicals, concentrates and infused products become legal in late 2019, Canna Space will offer them. Their plans to expand will continue into an edibles café or one-stop infused shop, and ancillary services featuring a spa upstairs with massage therapy and cannabis oils. 
Customers can look forward to more workshops on home cultivation, and possibly culinary events, down the road. "Our expansion into the rest of the building will truly see our full vision come to fruition." 
Their biggest challenge now is competing with the Yukon Government cannabis store. "Yukon Government has endless deep pockets and priority in fully stocked shelves," said Jordi, adding that currently the government is not only their only competition, but also their sole supplier. "We are very much looking forward to them closing their retail doors this fall." 
True to her volunteer and community-minded way of life, Jordi says that Canna Space will stand out from competitors by giving back to the community in various ways. "The cannabis industry is well-known for promoting social values and for being politically active," she said. "We will use our business as a platform to promote peace and justice issues, and our focus will remain on keeping Yukoners educated (where possible) and happy." 
Check out the store at 211 Wood Street, and online at www.triplejscannaspace.ca and Facebook. Also check out its sister store Triple J's Music, Tattoos & Piercing at 301 Main Street and on Facebook.