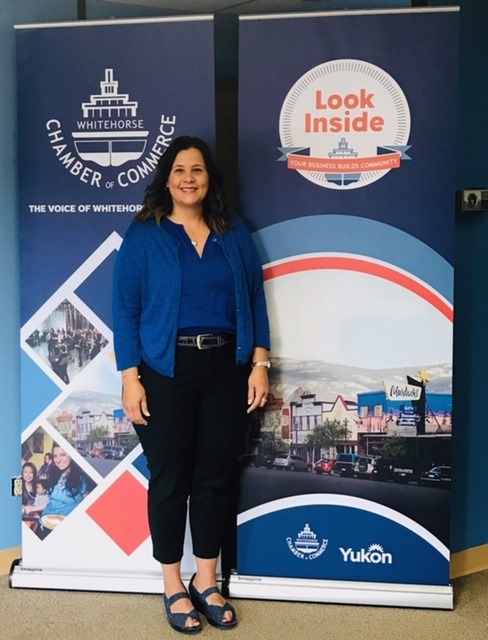 Our next feature tells the story of a woman who was drawn to the North; the mountains, climate, local businesses and amenities brought her here. Having lived in Nunavut prior, she understood what Northern living was about – and in 2009, our city ultimately became her home. With her business ethic and background, representing businesses in Whitehorse was a perfect fit, and having values like collaboration, inclusiveness and diversity in common with the Whitehorse Chamber of Commerce made Susan's arrival to 302 Steele Street seamless. Supporting and advocating for businesses and organizations that contribute to the economic, civil and social well being of Whitehorse was a passion turned reality. It is our utmost pleasure to introduce you to the Whitehorse Chamber of Commerce's new Executive Director, Susan Simpson. 
"The Whitehorse business community is diverse – from start ups to well established businesses; individuals who began a business at home before expanding into retail locations; people working from home or in shared spaces with other entrepreneurs; people who sell their creations at craft fairs; and, seasonal food and community market vendors - the list is long!", Susan shares. "What they all have in common is their passion for this amazing place." Susan lights up when speaking about local business, inspired by their motivation. 
Appreciating that the role of Executive Director supports and advocates on behalf of local businesses, Susan finds this most intriguing. "The exciting thing about being in an advocacy role is learning about the many business types and determining what is needed to assist them to prosper: whether that be advocacy at various levels of government, creating business to business connections, looking at advertising and promotion opportunities or exploring the factors that impact businesses and planning for fluctuations." 
Those who know Susan understand how much this community means to her both personally and professionally. "My son was two when we moved here, and having access to a ski hill, a recreation center and programs made life with a young child that much more fun. For me, one of the most attractive things about living here are the people who make this territory a vibrant, beautiful place to live. I feel so fortunate to be raising a family and doing business here." Juggling motherhood and career, Susan also makes time for herself. 
"I'm a part-time artisan, involved with the Yukon Craft Society, a growing group that represents over eighty crafters and artisans. This is one example of a very interesting private sector that is quietly working away around us." Her background in Governance also allows her to give back to the community in a meaningful way. "I've been on the Porter Creek Community Association Board of Directors for the past number of years. This community-based association works on initiatives that support the Porter Creek community; advocating for the membership of the community I live and raise my son in is most rewarding."
While Susan is still new to the role, she has championed much success - new successes in fact - and she's been having fun while doing it! We asked her what her most memorable day on the job has been. "There have been several already! If I have to choose just one, it is the Annual Business Awards Banquet Event that we hosted in June at the Kwanlin Dun Cultural Center." Susan and team changed the format this year, hiring two local photographers and a communications specialist to create video clips showcasing the award finalists business products and services, that were shown at the event before announcing the winners. "The energy in the room was incredible! The speakers shared stories about our thriving economic community - one that supports and encourages other businesses – a community that I'm proud to be a part of." 
Susan looks forward to issuing the annual membership survey at the end of August to inform the Chambers' work over the next year. "This survey provides valuable information for the work we do", Susan shares. "I'm looking forward to what is turning out to be a busy fall, with the launch of our Business After Hours (BAH) season, the Small-Medium Enterprise (SME) fall course series, our Annual Yukoner Appreciation Day in November, engagement sessions with the business community and new initiatives– the future is bright!" 
And bright it is....thank you Susan for sharing your story with us - we hope that all businesses big and small have the opportunity and the pleasure to meet Susan soon.