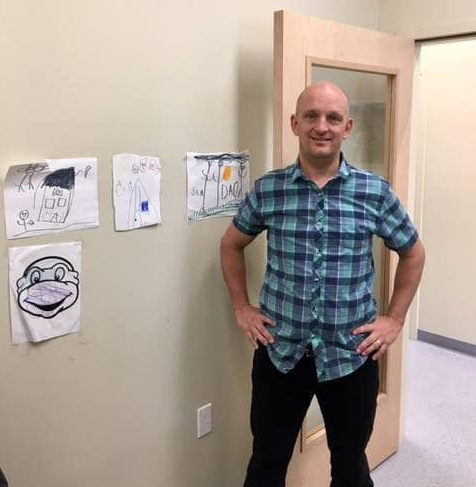 Our next #LookInside feature highlights PhysioPlus, PhysioPlus Downtown, a local businesses that has been supporting Yukoners and their health for decades. business owners, Mandy McClung and Thane Phillips co-own PhysioPlus and work out of two different locations; one downtown and one at the Canada Games Centre. 
Mandy McClung is a staple in the PhysioPlus Canada Games Centre location which houses over 15 staff and is located directly across the gym upstairs the Centre. One of the perks about going to this facility, is that clients can use the equipment both within the clinic and in the Games Centre!
Mandy has lived in the Yukon for over 20 years after moving from Edinburgh, Scotland. It's no secret she moved to the Great White North because of her love for the outdoors; having cycled to the Yukon with her husband from British Columbia in the 80's, coming off a cycle trip that spanned London to Hong Kong, they decided to raise their family (daughters 22 & 23 now!) here so they could fulfill their mantra of "outdoors everything". 
Mandy's degrees in Environmental Science and Physiotherapy have given her a strong portfolio of specialties which include, manual therapy, acupuncture/IMS, return to work rehabilitation and functional capacity evaluation, knee braces, and splints. In Mandy's personal time, she practices and instructs Pilates and engages this practice into her teachings and therapies at the clinic.
When Mandy is not cross-country skiing at the local Cross CountrySki Club, cycling, back-country skiing at the passes, Mandy can be found at Icycle Sports and Midnight Sun Coffee Roasters as her Monday Motivation is, "coffee, I'm just not a morning person". 
When we asked Mandy to define health, her response, "being fit to do the things we love in life". Mandy and her husband must be fit as they have two border collie dogs to chase after! No stranger to dog sitting either, Mandy often has up to four border collies at a time staying with them. How fun, (and busy)!
The PhysioPlus staff work together and play together, and have been known to mountain bike, paddle in a voyager canoe and go curling. It's all about work/life balance, right? 
Like her business partner Thane, Mandy is happiest when her staff are happy. Providing a workplace where people are doing what they love to do and providing great service is something that both owners strive to possess for many years to come. 
Thane Phillips, Mandy's partner, works out of the PhysioPlus Downtown location. His vision to support Yukoner's be the healthiest and happiest they can be dates back to 1999 where he worked as a Kinesiologist. Thane moved into a Physiotherapist role and has been doing so since 2003. In 2011, Thane officially received the keys to the business and the rest is history! 
Currently, he employs over 15 staff at his location and is known in the business community as an employer who puts much value within the culture and working environment of PhysioPlus by understanding that flexible work hours, community investment and a "work hard play hard" attitude can retain the best people. 
Two years ago, Thane and his co-owner Mandy received the Employer of the Year Award from the Yukon Chamber of Commerce, Yukon, Canada. The team annually participates in community service activities and enjoys a night of curling each Fall. (Something tells us this game is competitive considering how athletic the entire team is!) 
Thane was born and raised in Whitehorse and truly appreciates where he lives. He and his family love the outdoors and are proud Yukoners. His wife Keri, and children Sam (7), Zoe (4), and Bennett (Border Collie) often spend weekends on their property in Carcross where they mountain bike, camp, hunt, ski and snowmobile as a family. 
When asked, Thane credits his colleagues as being his greatest professional accomplishment and mentioned that their team approach with working on patients and communicating effectively makes him proud to employ the best people in the industry. He's been able to see first-hand how you can change someone's life from becoming pain-free. Thane shares that, "people accept levels of pain that they don't need to. They still don't know how much physiotherapy can help, and there's research and studies to prove this." 
We asked Thane where he wants the clinic to be in the next five years and his answer is simple, "continue to focus on high quality service'. 
Thane welcomes anyone who has an interest in Physiotherapy or alternative treatments for pain to contact one of their two offices, and start living a life pain-free. #LookInside