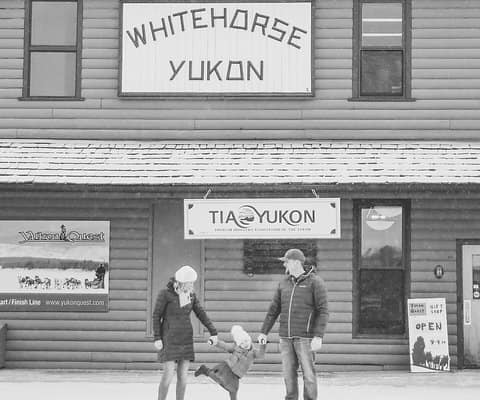 Darryl Fraser spent years working on the road away from his family as a journeyman power line technician. A desire to spend more time at home with his growing family, and to connect with more people in the community, was the reason he ventured into business ownership.
Our next #LookInside feature highlights local business owner Darryl Fraser, who got certified through the International Association of Certified Home Inspectors and launched his business: Northern Guardian Inspections Ltd (NGI).
NGI provides comprehensive top to bottom reports on each home inspected using the latest tools and technology. NGI inspects the roof inside and out, heating, air conditioning, electrical, plumbing, appliances, moisture testing and thermal imaging.
"I take great pride in being part of our community, and I understand the incredible financial and emotional commitment of home ownership," he said.
"The people here in the north are what truly makes this business a pleasure to run," Darryl said. "It's been such a positive experience connecting with the business community and clients alike. Everyone is friendly and helpful. The authenticity of the people here and the support has been overwhelming."
NGI is a member of the Whitehorse Chamber of Commerce and Northlight Innovation Hub (Yukonstruct). "These have both been tremendous resources to me as a small business owner," he said. "Northlight offers me a dedicated place to work and connect with like-minded individuals who are more than willing to help one another out."
Darryl appreciates the opportunities that membership of the Whitehorse Chamber provides for his business. "I've found the networking, seminars, Business After Hours and other members the most beneficial."
He recalls his most memorable day on the job when he and his daughter handed out Timbits and business cards to some of the local businesses downtown. "The experience really drove home how incredibly lucky I am to now be in a family-run business that allows me to work hard and still be a dad."
He loves living and doing business in Whitehorse as the wilderness is right outside his back door. "I can walk my dog with my family in the morning with a cup of Midnight Sun Coffee and we can sink into the Takhini Hot Springs in the afternoon. If we need a break from the winter, our local airline (Air North, Yukon's Airline) is second to none with their hospitality," he said. "I wouldn't want to live anywhere else!"
The future is bright for Northern Guardian Inspections. The business is having a good winter so far, and is looking forward to a busy spring and summer. #LookInside 
Find out more about Northern Guardian Inspections Ltd at www.northernguardianinspections.com and the Facebook page @YukonInspections!
Photo Credit: Jennifer Marie Photography, Whitehorse.