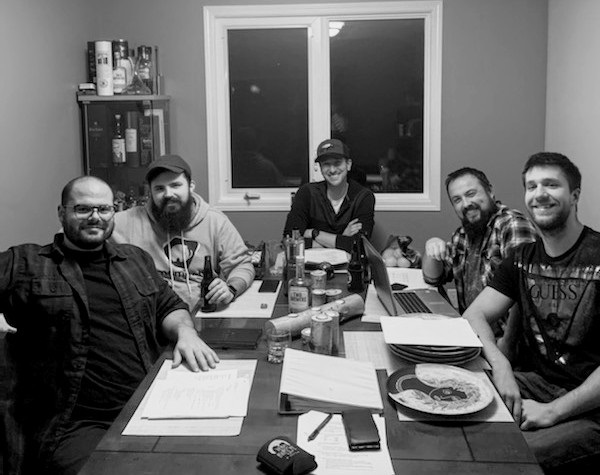 Sustainability. Innovation. Agility. Feeding the North. 
A few words that we think of when describing the next #LookInside feature. An idea born in the North, supported by local visionaries, has quickly put a national focus on northern agriculture. 
We met with CEO Sonny Gray and his team to discuss North Star Agriculture Inc, a local business and northern Agriculture Development Corporation. "From a food security perspective, we recognized that there were a number of barriers that needed to be addressed in order for the Yukon to become more sustainable. Farming in the territory is challenging to begin with and we sought to access innovation and technology in order to lead the way for a more food secure Yukon." 
Over time, they refined our focus and established six pillars which NSA is dedicated to working on:
1) Local food production (Creating a more food secure Yukon)
2) Circular Economies (Recycle, Re-use, Re-invent – utilizing waste as a resource)
3) Renewable / Alternative energy (Exploring cheaper sources of energy & heat)
4) Environmental Impact Reduction (Carbon Footprint, etc.)
5) Social Impacts (creating an opportunity to provide products that everyone can access)
6) Agri-Tourism / Education (showing off our innovation, inspiring and educating)
The North Star Agriculture team is comprised of proven Yukon entrepreneurs, each who have established successful businesses. Sonny Gray & Joel Gaetz have a number of successful businesses in the service sector, Luke Legault owns a thriving catering business and Matthew Douglas & Richard Eden are rocking their new marketing agency.
"North Star Agriculture is really a labour of love for this territory that's offered us so much opportunity", Sonny shares. Many of them are raising young families and the future is important to them. "Food and the process of growing food is our passion. We believe in a future where the Yukon is more self-sustainable and is less reliant on food brought into the territory."
Considering their entrepreneurial spirit, and their passion to build business in the North, we wanted to know why they choose Whitehorse of all places to start a business and what particular it is about the North, that they like. 
"The strength within our community and our ability to connect and network with people on a very personal level is something truly unique to the Yukon and is occasionally taken for granted. Whitehorse is such an amazing city with a ton of potential. We have incredible opportunities to partner with like-minded people, access to funding, but most importantly, we are fortunate to have the overwhelming support of our community as a whole. Being able to help shape the future of this community is truly an honour and a privilege. Many places in the South and back East simply do not provide the opportunities that we have here."
We learned that social impact is an important component of North Star Agriculture, and one of their key pillars. "We believe is giving back to our community and do our fair share of volunteering." Sonny is the current president of the Yukon Agriculture Association and sits on the Agriculture Industry Advisory Committee. He also a newly minted director of food/beverage with the Yukon Tourism Industry Association. Joel is with Whitehorse Chamber of Commerce and Matt serves on Rotary and the Yukon Young Farmers board. We also have projects currently with the University of Alberta, University of British Columbia and are currently chatting over projects with the University of Guelph. 
And these guys are everywhere, literally. 
"We conduct regular research and development trips all over the world which provide us with valuable insights into new innovations and upcoming technology. Through these opportunities, I am fortunate to see some really special places", Sonny shares. This past year he visited Iceland and the Netherlands where he had the opportunity to learn about geothermal energy, self-sustainability, vertical farming, artificial intelligence and robotics. "Along the way, I met some amazing people. It was definitely a super special time for me." 
So what does the future look like? 
"Many of our projects are reaching a stage of fruition. 2020 will prove to be an amazing year for our North Star Agriculture. We are excited to see our waste oil recycling project scale and become incorporated in a newly designed pig barn as a form of heating, our waste food project will also be adopted at this same farm as a valuable source of feedstock successfully offsetting the farms feed costs. Not to mention, we recently secured land at the Takhini Hot Springs and will finally start phase one of creating Canada's first geothermally heated aquaponics facility!"
With Sonny travelling often and out of Territory to business and fostering new relationships and partnerships, we had to ask: what does he most look forward to when returning back to the territory? 
"I miss the clean air. Flying back into the territory, that first blast of fresh air filling my lungs is something I don't ever want to go without. Man, there is nothing like it. We are so lucky to have such amazing air quality here in the Yukon. It's easy to take it for granted but, speaking from experience, the rest of the world has nothing on our amazing air." 
And finally, a fun fact. We asked Sonny to fill in the blank, "If it wasn't for "BLANK", North Star Agriculture would not be possible.
"My team, but the truth is, if it wasn't for my wife, Jenelle, I wouldn't be nearly as successful as I am today, without her continued support over the past 12 years." 
Thank you Sonny and team for all that you are doing to help us envision a future of healthy and sustainable food for the North.