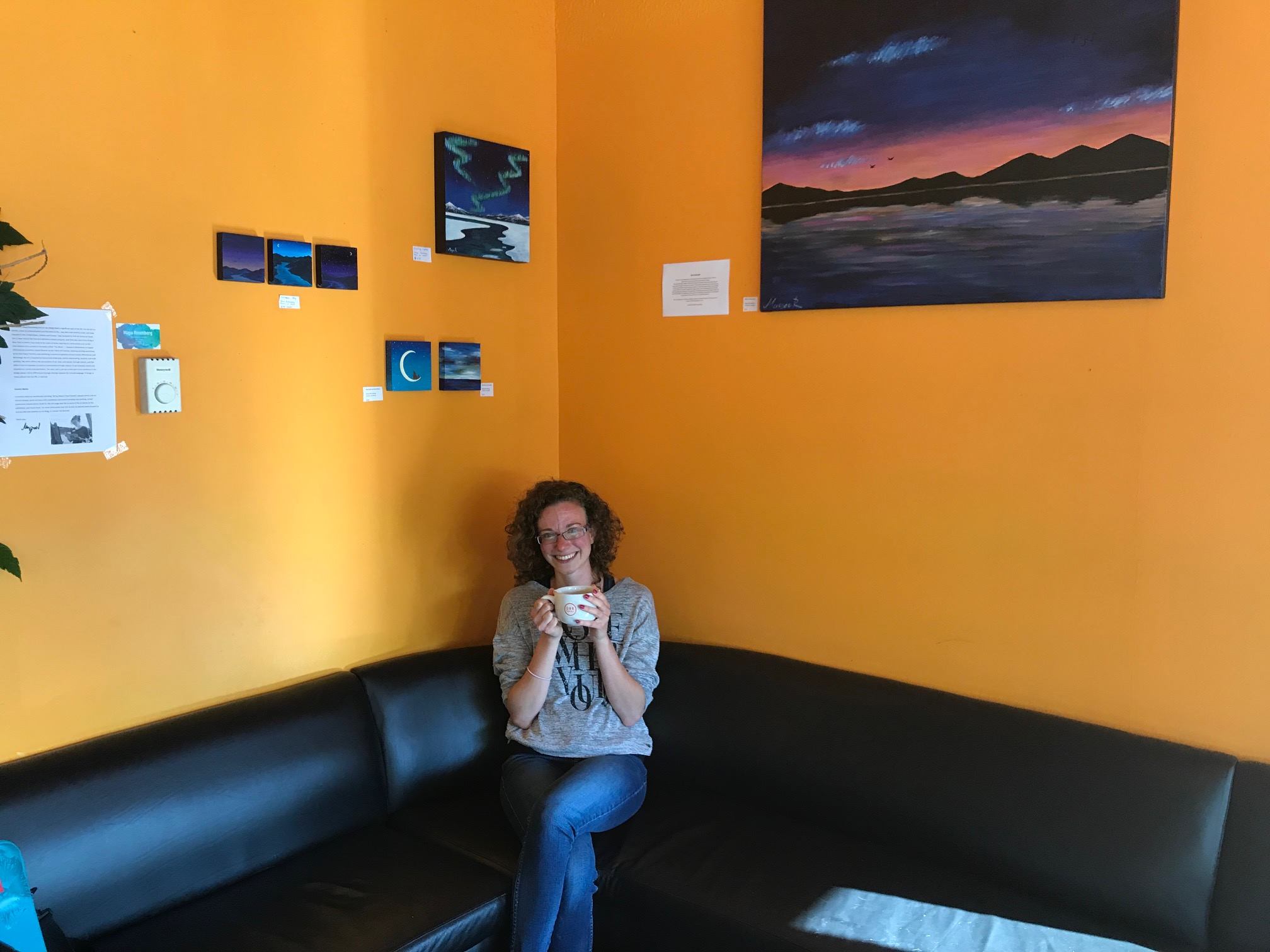 As we sat in Baked Cafe & Bakery on Monday morning, the sun was shining with the patio full, inside had a special energy from those enjoying the Labour Day holiday, and walls were lined of gorgeous art pieces. Our next #LookInside feature shares the story of Maya Rosenberg, the local artist currently featured at Baked Café and in the Horwoods Mall.
"I want to inspire as many people as I can" Maya shares. And one of the ways she can inspire people, is having her art featured in such a central location. The collection we sat near was a special exhibit, one in which she collaborated with local organizations such including the RASC: Yukon Centre - Yukon Astronomical Society and Victoria Faulkner Women's Centre. 
Maya painted before she could talk. Her attraction to pencils and brushes came at a young age. Born in Israel, Maya eventually ventured to New York for her art, and ultimately came to Canada and found Yukon after a backpacking journey. (Classic case we have heard so many times before!) The Yukon is where Maya was able to open her business Art By Maya (www.mayaart.ca/) and also attend the University of Regina through the Yukon College where she studies a Bachelor of Education focusing on Fine Art and Indigenous Studies. She speaks so beautifully about the northern and indigenous content within her learnings that she is very inspired by. 
Maya lights up when she speaks about her students. Her students, 9,10,11 years old have their artwork featured currently at the The Yukon Arts Centre for Maya's first art show. Maya offers one on one art classes, group classes and paint parties. "With kids, it's really fun", she boasts. Parents enroll their children in Maya's classes to learn to paint, draw, colour theory, how to mix colours, techniques with tone and volume, how to set a landscape are just some of the classes she teaches...and it continues from there! The two hour classes are combined with skills and then freedom to paint how they feel. Maya encourages the children to really make a piece their own. Adults, we learn, really enjoy the classes too, and especially the Art by Maya Paint Parties hosted at Baked Café, where wine is offered to help on the inspiration front! (Maya cannot say more positive things about her relationship with Baked!) 
While Maya loves to inspire others, it's the Yukon that inspires her. Our culture so enriched with an incredible music scene, talented artists, the gorgeous landscape complete with mountains, and northern lights, it's truly the best surroundings for a local artist. "The way I see it, when it's colder and the days get darker, use the Northern Lights. We can use art instead of getting depressed, we can get inspired by it". Maya teases that we will have to wait and see what workshops she will be offering in the winter months.
When Maya isn't doing art, she spends time listening to live music, soul music - she has a fond appreciation for artists who put their heart and soul into their music. Maya also loves to swim, she's in the lake every day of summer, Long Lake to be exact. 
It was so nice to meet with Maya and learn about how she is contributing to the overall health and wellness of our community through art. Our interview concluded with Maya walking us down to the Itsy-Bitsy Yarn Store where her original mural is displayed on the wall which creatively illustrates the story of yarn through her eyes. 
We do hope you connect with Maya and put some colour in your life! Thank you Maya Rosenberg!