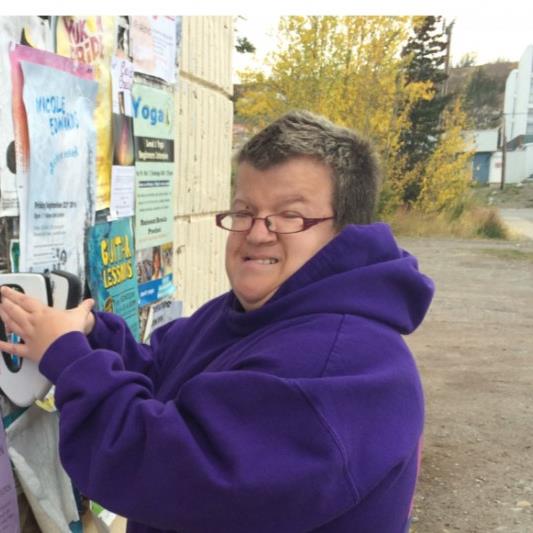 Mallory's Postering Service is a local business, putting a new spin on marketing and creating awareness on all things local in our community. We sat down with local entrepreneur Mallory Pigage yesterday to highlight the work she is doing in Whitehorse, and more importantly, how she has been invited to Halifax, Nova Scotia to present her business to a panel of committee members at the Canadian Association for Supported Employment (CASE) National Conference in June.
Starting a new business is challenging to say the least, so when we heard that Mallory had over 200 contracts in her first year of business, we were instantly delighted and had to learn more! 
"Two years ago, I started out with courier service and then everyone kept calling me for posters and I changed my business name and focus. I have been exclusively a postering service 2 years in April." Mallory's job coach Sharon Ulrich attributes repeat clients, and referrals as part of her instant success.
Being an entrepreneur is gratifying but demanding, and it takes a certain type of person to be self-motivated and focused. We asked Mallory how she meets the demand of this rapidly growing business daily, "I get up at 7am and self-motivate myself. I like visiting my friends and saying hi to people throughout the day as well". Networking is her specialty, and she is great with business relationships! Within the 15 minutes we sat down together, two people interrupted us just to say hi to Mallory.
Mallory shared some history with us and her background with us too. "I was born and raised in Whitehorse. I have an intellectual disability called "Charge Syndrome" (a rare syndrome caused by a genetic disorder) and my family doctor told my Mom I wasn't going to be able to walk or talk when I was younger. I had a hard time breathing, so I went to Edmonton and one of the doctors didn't know what was wrong with me, so they brought a series of doctors into the hospital to diagnose me." Clearly, Mallory was destined for a different narrative. Not only does Mallory own her own business, she also has had employees in the past. We asked Mallory what she loves about doing business in the Yukon and her answer was simple, "there's a lot of opportunities in the Yukon to do business, and the people are great!"
Mallory's Postering Service will be the only Yukon business featured at the CASE Conference in June. Because Mallory has benefited from Supported Employment, she will be able to share her business model and how Mallory founded a niche business venture. For Mallory to attend this Conference, she must fundraise. Colette Acheson, the Executive Director of Yukon Association for Community Living has set up a Go Fund Me Page for Malloy's travel expenses:
https://www.gofundme.com/travel-costs-mallorys-postering
To date, she has fundraised $1,480 of her $3,200 goal. 
We are encouraging all Yukoners to do what they do best, to support a Yukoner in need. Let's #LookInside as a community! Wouldn't it be great for Mallory's Postering Service to be showcased in Nova Scotia?! "Thanks for helping me achieve what I really want". – Mallory Pigage