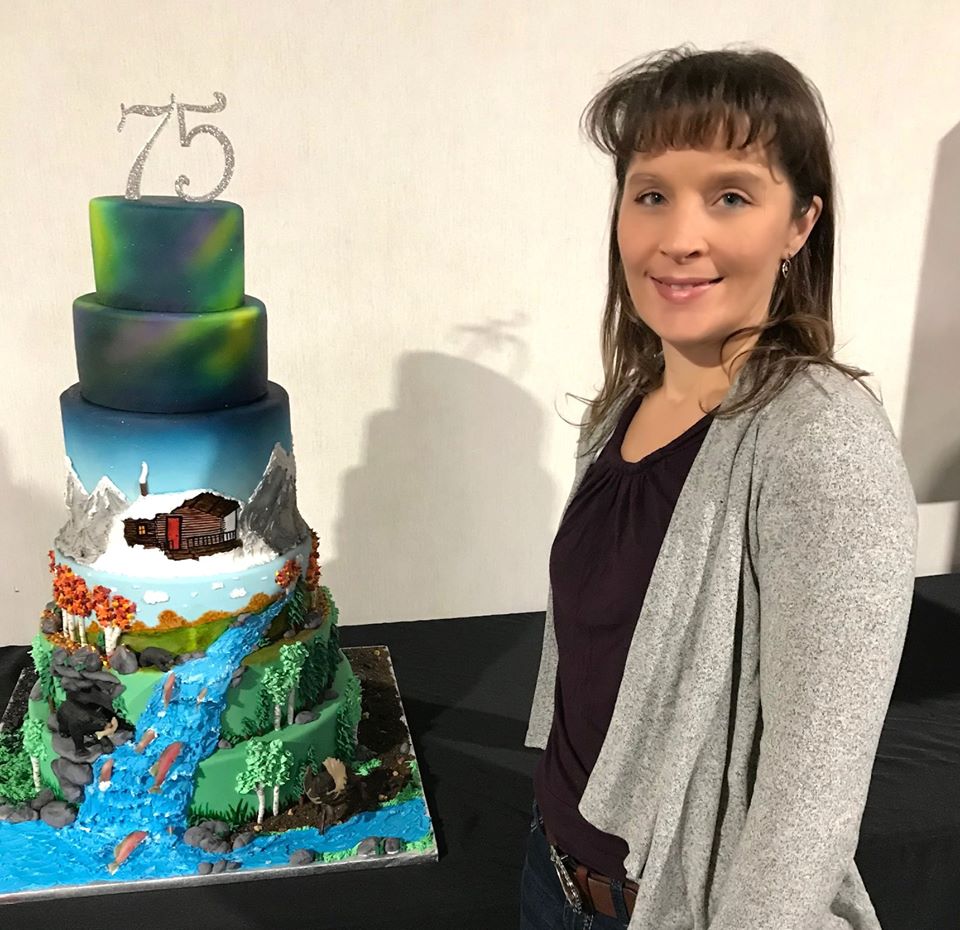 Our next #LookInside feature highlights Klondike Cakes, a locally owned and operated business that has been serving up deliciousness to Yukoners for 13 years. 
Offering custom cakes, cupcakes and desserts for all occasions, including birthdays, weddings, anniversary's, baby & bridal showers, corporate events, retirements, reunions, all cakes are made to order and baked from scratch. This home-based business was inspired by a passion for cakes and watching the Food Network Cake Challenges while business owner, Heather was home with her newborn son. 
"After the birth of my first son in 2004, I started making fun, creative cakes for my family and friends as a hobby. In 2013, I made the decision to start my own business, and I have enjoyed sharing my love of cakes with the North ever since. I am self-taught, and enjoy spending time in my kitchen practicing and trying out new things. The support I have received from the community since starting my business has been wonderful, and I am thankful to be able to be part of so many special memories. I am also very proud to be able to give back to the community as a sponsor such exciting events like the Yukon Sourdough Rendezvous Festival, Yucomicon, and Cultural Days." 
The partnership she has with the Yukon Sourdouh Rendezvous is prevalent in the community. "I am very proud to be partnered with the Yukon Sourdough Rendezvous Society. I sit on the Board of Directors as the Secretary, and am also a major festival sponsor of their Quest for the Crown program. It is such a fun & creative environment to be part of, and I have met some of my closest friends during my time there." 
Having found success sharing her amazing creations in the North, Heather shares that being a business owner in the North is very rewarding having found a lot of support from the community. "This beautiful territory we live in is so inspirational, and I love having the opportunity to express my creativity in such a delicious way." 
However, she did admit, it can be challenging at times too. "Not having local access to many of the tools and supplies I require, aside from local & fresh ingredients, I have to order most of my tools & equipment online." 
When Heather is not operating her business, she's operating her busy household! With four kids ranging from 10-16, there's always something happening. The family enjoys a lot of outdoor activities, and her kids often volunteer with her in the community. 
In order to get to know Heather more personally, we asked for her "local pick five!" 
Favourite restaurant: Giorgio's Cuccina
Favourite mountain: Haeckel Hill (this is where my husband proposed to me)
Favourite local business: Riverside Grocery
Favourite hike: Miles Canyon
Favourite thing about being a Yukoner: Being called a 'Yukoner'. We moved to the Yukon in 1999, and immediately felt at home here. I have been told by many people visiting that they have found people in the Yukon to me so nice, kind, outgoing and helpful. It is a good feeling to be labeled as a Yukoner.
So, where does she see her business evolving for 2020? Continuing to grow her consumer base both with individuals and with corporate events. The community can find her business on Facebook and through her website: www.klondikecakes.com or by emailing: [email protected]. 
We ended our interview with asking which advise she would give anyone venuting into owning a small business, "Be persistent. It takes time to get your name out there, but the rewards are worth the work. It is fulfilling to know that you are making a difference and a contribution to the community." 
Heather has found great benefit from her membership with the Whitehorse Chamber of Commerce, specifically with the workshops and seminars offered, and the promotion of supporting local business like this #LookInside page. Thank you Heather for your time, talent and treasure!
---
Buy Local - Look Inside is a campaign supported by the Whitehorse Chamber of Commerceand dedicated to supporting local business in our community. We post two business profiles each month by interviewing local entrepreneurs and businesses who are Whitehorse Chamber members and have requested to be featured. These profiles are created and written by a local contractor.
We encourage all businesses to e-mail: Avery Brohman at [email protected] or message the Look Inside Facebook page to be featured. Thanks, and we look forward to profiling your business!"