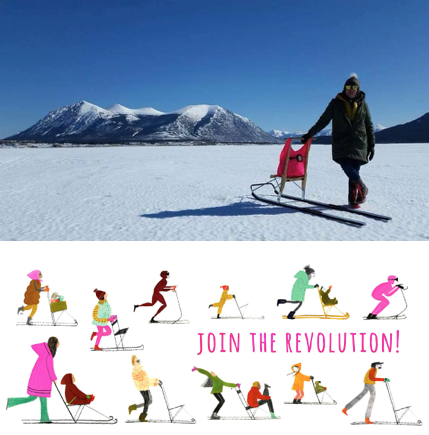 Our next #LookInside feature highlights a quiet revolution happening right here in the Yukon, a Kicksled Revolution. 
Anne Middler loves cold and living in the north. Ten winters ago, a friend introduced her to kicksledding on frozen Crag Lake. "I was impressed by how fun and easy it was," she said. "I always felt vulnerable on skis but enjoy winter's gift of glide, so I immediately fell in love with kicksledding." She bought one the next day from a fellow who used to build them here.
Kicksledding quickly became her favourite winter mode of active transportation and recreation. "Over the years, I amassed a small fleet of kicksleds, and talked about them constantly. The Kicksled Revolution began as a catchphrase for sustainability in my environmental work, and after wishing out loud for many years that everyone in the Yukon had a kicksled, it became clear I would have to facilitate that in some way."
So she imported 350 kicksleds from Finland in 2016, 350 more the next year, and this year she bought a giant van to bring the Kicksled Revolution to communities.
"I am really good at kicksledding, talking about kicksledding, assembling kicksleds, and fantasizing about communities in which everyone gets around in winter by kicksled. My business skills are lacking though, and I often have no idea what I'm doing."
But the positive feedback she gets from people makes it worth it.
"I love introducing people to kicksledding, getting them hooked, and hearing about all the places and applications where they use their kicksled. It's not just for fun, fitness and getting around, a kicksled helps people move heavy things around the yard and stabilizes walking on icy surfaces." Loading up the kicksleds with camping gear and setting off on a "kickspedition" on a frozen lake in the springtime is Anne's idea of a perfect vacation. 
It's obvious she believes in the product she sells, and she makes kicksledding a priority in her life. "I need it. It feels good for my body and makes me happy. I justify that time by considering it business related, even though it's mostly for pleasure and mental health."
And the pure joy is catching.
Anne brings kicksleds for the public to ride around the Shipyards Park ice loop at Rendezvous, Yukon Quest and the City of Whitehorse's Santa Land event, happening this Saturday at 3:30. "That's a nice one because it's dark out but the trees are colourfully lit reflecting off the ice. I love to sprint around the loop with fit keeners on racy metal kicksparks, or take it easy with families on the classic wooden models. It's a magical event and people like the opportunity to try out kicksledding and get some coaching tips."
One particular youth at an event inspired her. "I call that kid with excellent kicksled technique and a great attitude the captain of my 2020 Arctic Winter Games team, which is an aspirational statement because I don't really know how to make that happen!"
Anne doesn't know what the future holds for her business. "There are many options. I have ideas, and we'll have to see which ones I can activate. I'm open to suggestions, assistance and partnerships."
In the immediate future she's excited to head to Burwash Landing and Dawson City in January, and Yellowknife NWT in March with her big van full of kicksleds. She plans to travel to more Yukon communities early in 2019 too.
Anne is grateful to the Whitehorse community that supported her in the launch of her small business, and continues to show support in its third year. Her downtown shop is fun and friendly, made possible by generous helpful friends. "If it weren't for my dear friends who loaned me their space for the kicksled shop, I might still be trying to hustle kicksleds out of the back of my old Volvo station wagon. Rent in Whitehorse can be prohibitive for small businesses so I am lucky to have a low rent cozy place beside an awesome kicksledding alley to sell kicksleds and hang out by a wood stove."
The Kicksled Revolution joined forces with the Yukon Transportation Museum this year. YTM promotes kicksleds as a viable winter transportation mode of past, present and future. The YTM has a pair of its own kicksleds to use around the outside exhibits, and YTM sells kicksleds on consignment in their gift shop, which is open in winter on Sundays and Mondays – days that Anne's shop is closed so she can spend time with her daughter and go on kicksled adventures.
Check out the Kicksled Revolution HQ shop on 5th Avenue between Wood and Jarvis. It's open Wednesday, Thursday and Friday noon-6, and sometimes on Saturdays 10-2. Like and follow Kicksled Revolution on Facebook and Instagram. Visit www.kicksledrevolution.com to learn more.