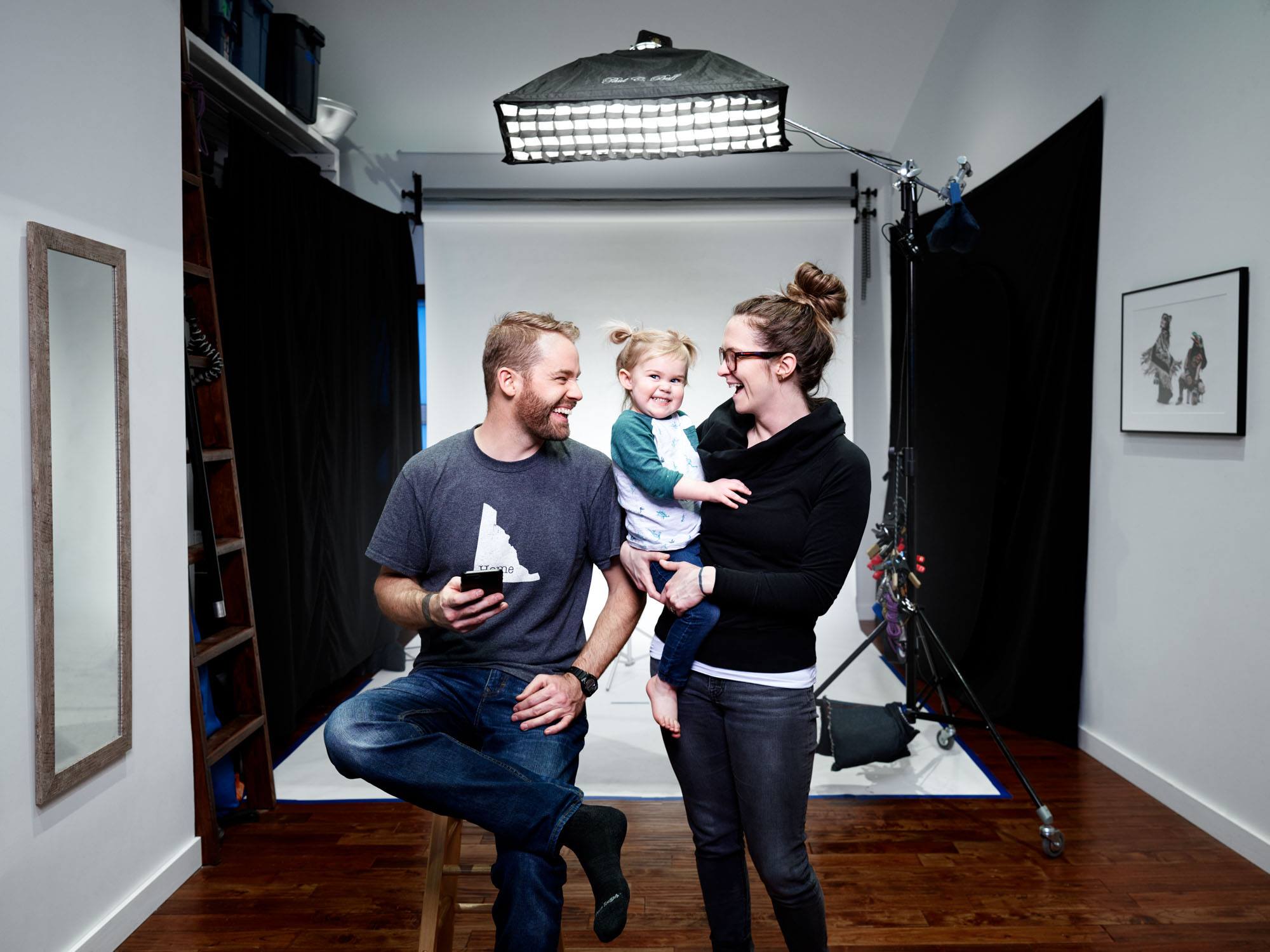 GBP Creative flourishes in the diverse north.
Our next #LookInside feature profiles Gary and Brianne Bremner's hobby turned side hustle turned successful photo and video company – GBP Creative.
Gary Bremner always loved photography, and it was the creative outlet he pursued after hours when he worked full time as a journeyman electrician. As can happen when someone has talent and passion, a hobby can grow into a busy side hustle that warrants full time attention. 
When photographing friends and family took over all his spare time, Gary decided to go all in. In 2011, he left his job to make photography his main gig. His wife Brianne joined him two years later, and their company GBP Creative has since grown to specialize in commercial, corporate and industrial photography with local and national clients.
"We have a passion for people and for business," said Brianne. "We love learning about what makes people do the work they do, what fuels them, and then helping them express that through an image."
Doing business in the north has provided incredible opportunities. "We believe we got to where we are in our career quicker here than maybe we would have if we were in a big centre. The north has that spirit that encourages people to take chances and try things," she said. "If you commit to doing good quality work and have good customer service, people here will support you."
In the photography industry, living in the north pushes photographers to be diverse. "In a larger area you'd have to specialize in one tiny thing to get your foot in the door. Whereas in the north, it's the opposite – to be successful, you have to know how to adapt and gain the skills to work in a variety of areas."
The impressive GBP Creative portfolio on their website provides a glimpse into the diverse range of their clients, and the depth and distinction of their work. Photo shoots in boardrooms, hospitals, aerial shoots out of a helicopter has forced the team to be adaptable and to constantly learn new skills. "That's one of the things we love most about living and working here!"
Brianne said when people find out she and her husband are photographers in the Yukon, many comment on how many northern lights photos they must take. "We've actually only ever taken two in our entire careers!" GBP's passion for people and business (and their desire to sleep at night) leave the landscapes and sky scenes to others.
"We firmly believe that the Yukon has high quality businesses and organizations, so the imagery and media should make them look as good as any company in Vancouver and Toronto. We have world class organizations here and that is what we love to be able to show through our work."
Giving back to the community is a fundamental part of their business. "We are very aware that we get to do what we love because we have a community that supports local business and that wants each other to succeed," said Brianne. GBP Creative has partnered with Whitehorse Connects through the Yukon Anti-Poverty Coalition for years, offering free portraiture at all their events. GBP also volunteers at Mardi Bras, the fundraiser to support women going through breast cancer. 
GBP sits on the board of the Air North First Light Image Festival, a local photography festival now in its third year. "This month our Newfoundlander dog 'Bill Murray' starts his volunteer job as a therapy dog through continuing care."
GBP Creative is working on growing their nationally based cliental. "Gary is upgrading some of his current training so we can specialize even more in heights and industrial work," said Brianne. "Gary started off his career many years ago working on communications towers, rock and ice climbing and loving adrenaline based things, so now he's circling back and working towards merging his photography career back into those areas again."
The team reflects on the many memorable days on the job, but one stands out. Gary went on an ice patch discovery trip with the Kwanlin Dun First Nation to help document work of archeologists and elders searching for artifacts. "Being able to be on such sacred land with elders, to witness culture and history that most people will never see, to document this, was such an honour and an incredible experience," said Gary. "It was definitely one of the many days we've had where we come home at night and just reflect on how lucky we are to be able to do what we do!"
Brianne and Gary appreciate the flexibility of their business especially now they are parents. Their daughter Mabel (known affectionately as their mini assistant) was only four weeks old when she attended her first photo shoot with her parents. When Mabel was six months old the family travelled to South Africa to work with an international development organization.
"It's so important to us that she grows up learning about different cultures and lifestyles, and that she sees that there are no bounds to what she can do as long as she works for it," said Brianne. "We hope that by seeing all the different organizations we work with, that she sees how much possibility there is out there."
To see GBP Creative's work, visit their website www.gbpcreative.ca. Like and follow them on Instagram and Facebook.