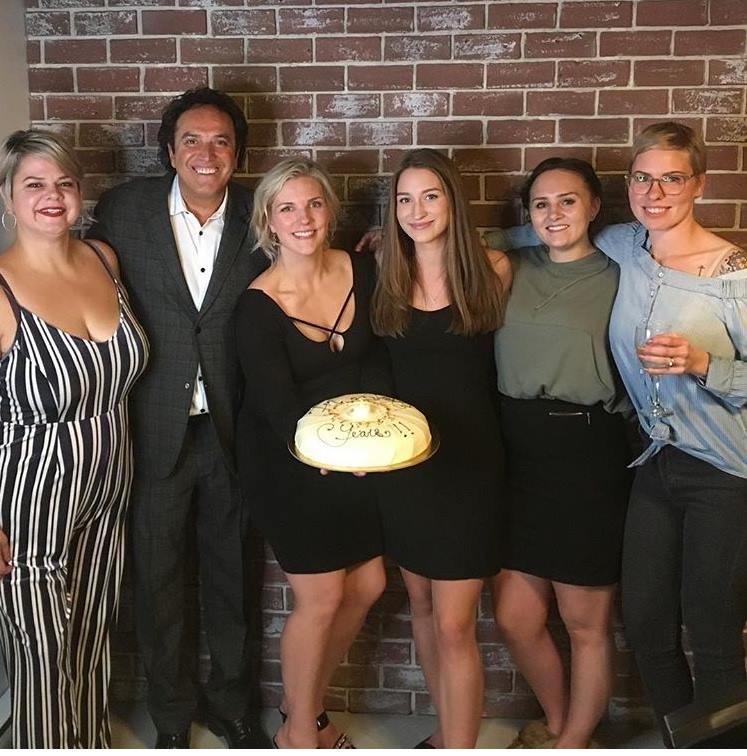 There's something to be said about a business that makes you look good and feel good. This next #LookInside feature highlights Fahrenheit Hair, a local business with a loyal following and stylish clientele. Their mission, "We are a collective of unique individuals working together as a cohesive unit to share knowledge, creativity, passion and support. We pride ourselves on being leaders in the industry. We stay current with continued education, training and trends to offer the knowledge and expertise that you deserve. We hold ourselves to high standards when it comes to your cleanliness, your comfort and overall experience, and of course, final product of your service and after-care." 
Owner Chantelle Terapaski attests to this purpose, "we created this statement to summarize the goals and expectations of Fahrenheit Hair, for not only the public but also for ourselves to be accountable to." 
A hair enthusiast through and through, Chantelle founded this business in 2008 when she moved to the Yukon. "I needed to create an environment that fit who I was, and how I saw hair." Like with any hair salon, guests spend a significant amount of time in the salon chair, Chanetelle explains that this time should be enjoyable and relaxing for both the stylist and client. "People do not have a lot of free time these days. To carve out a few hours for a hair appointment, they should be maximizing their time receiving educated consultations, accurate product recommendations, and booking with a service provider who truly wants to make someone feel good and look their absolute best." 
Chantelle and her talented team are proud of the community they live and work. As a Whitehorse Chamber of Commerce Member, they value local businesses and appreciate the fact that in a smaller community, you need to set yourself apart. "Almost all of our oproducts are cruelty-free, paraben-free and sulphate-fee. Many also organic. We specialize in professional natural skincare and haircare. We offer facials with Nelly De Vuyst - Organic Collection. These are effective cosmos certified organic skincare. Our hair removal is done with threading or sugaring techniques. The products we use are not only high performance, they are a safe, healthier choice for us to work with, and for our clients using them at home daily." 
Always striving to be current with industry trends, and holding themselves accountable for superior standards, we learn that they have become a Green Circle Salon (read more here - Green Circle Salons). "This means we recycle and divert about 95% of our waste including contaminates (excess colour, bleach, used foils etc). We have a $2 eco fee applied to all services over $20 which goes towards Green Circle. This covers the cost of the shipping of the contaminates that cannot be recycled locally. Others we recycle and compost our waste which adds up very quickly! We strongly urge other local salons to participate as a Green Circle Salon, it is shocking how much waste is accumulated, and we are not a large team!" 
Their Facebook and Instagram pages @fahrenheithair highlight this accomplishment, as does their website: www.fahrenheithair.com! 
Most recently the salon menu removed children's services. "Our new policy requires that any children under 13 years old must be accompanied by an auld not receiving a service. Childcare needs to be arranged prior to appointments as we do enforce this policy and will have to reschedule the service. We spent a year prepping our salon guests for this decision that we made as a team. While we have had a couple of people finding this change unfavourable, most of our clients have thanked us and are very happy with the change." It only takes moments to step inside Fahrenheit to realize that there is this profoundly positive culture within the salon walls, the team is made up of talented women who really do respect and care for each other the way they do for their clients, and their families at home. 
We wanted to know what Chantelle values best about starting a business in the North? Specifically, working the Whitehorse community.
"Whitehorse has such wonderful people. Our clients have such vibrant, colourful personalities. It is so fulfilling working in the beauty industry here. In the city, I found most people were scared to be different, to try something new. Moving here I found that people were way more open to change and looking forward to it." 
As a community-minded business, Fahrenheit has run the Skills Canada Hair club for several years. Currently, Chantelle assists and judges the territorial competition for Skills Canada, and is representing the National Technical Committee for Skills Canada as a judge for her third year. "This massive event is hosted in various provinces annually. Our other stylists have assisted in teaching the club, or supporting the competitors as a coach." 
"Early this year we took on a mentee through Yukon Women In Trades and Technology (YWITT) and ran a pilot program teaching a one-on-one hair program that I designed. The goal was to expose an individual to the trade, to determine if it was something she would like to pursue as a career. It was a successful endeavor and lead to her employment in our salon. The team has been very helpful in her success and positive experience." In addition to this, Chantelle volunteers her time managing a mini Academy for a few employees interested in the industry. "It is a half day once a week - I don't want anyone to leave the Territory and waste their time and money going to hair school if it's a poor fit. It is expensive, and the career is for you or it's not. This academy gives the girls a great idea of what it's like behind the chair, and will help them decide if they will see the career though." 
Fahrenheit is also profoundly philanthropic. In addition to supporting local charities who often ask for support, they are currently selling travel bags filled with goodies to raise money. "Our goal is to sponsor a family this Christmas. Each bag is $20 and all profits for toward the family. The bags are quality bags and fit full-size products. We designed them to be ideal Secret Santa gifts as there is an insert so the recipient understands that by receiving the bag, they are helping sponsor a family." 
It's hard for Chantelle to highlight her most memorable day on the job because so many days stick out. 
"I absolutely love our team, we have so many laughs. We are all so passionate about what we do. We get each other. I am happiest when we are all at work, stealing each other's lunch and going a little overboard with our staff espresso machine!" One highlight however was when Amanda joined the team. "She came for an interview and she grilled me about my reputation as an employer and the staffing turnover. I was slightly shocked, but I loved that she was so upfront. Laying out her expectations, boundaries, and doing her own homework on the business. I knew that with that kind of honesty and confidence, she would be an asset to the team." 
So, what does the future look like for Fahrenheit Hair? 
"We recently added a second spa room for our lash lifts. We have become a certified salon with fLASHlift Lashes. fLashlift is a Keratin Lash Lift that is a new completely natural form of lash lift. It is exclusive Fahrenheit Hair and there are no other similar products currently on the market. This lift lengthens, thickens and lifts your lashes with no damage or irritation. The service not only has you leaving with fabulous lashes, but feeling relaxed and pamper as it includes a tint and massage during the processing times. Due to the popular demand we have had to create more space for another fLASH Lifter so we can keep up with the new request for this product. Recent additions to our service menu include Brazilians done with the sugaring technique." 
After spending time with Chantelle it's obvious that our community is very lucky to have a business leader like her in our community. There's fearlessness about her, friendliness too. A perfect combination for paving the way for admirable culture. We had to ask, "what makes your culture so special - how do you retain great people and create a meaningful work environment?" 
"Finding and retaining staff in the Yukon is very challenging. I count myself very fortunate to have the team I do. While I have learned a lot and grown as an employer, I feel that having the right mix of personalities is very important. Setting firm expectations and boundaries lets everyone know what they need to be doing and what they can expect in return. I have played with various styles of management. I believe that being open and flexible is very important when 'managing' people. We are all different, and have different needs. I don't actually believe in managing people anymore. Not for my business anyways. It is about working with people. Find their great traits. Everyone has some. Let's focus on those and maximize them, and we can either work on your weakness or find someone else who excels where you don't. When we focus and talk about the positive, we are surrounded by positivity. Everyone feels good." 
"As for culture, I think it's mostly about celebrating each other's success. Recognizing each other's achievements or work, regardless of how little or small. I have cut back my time being behind the chair to focus on the salon and the team. Being around and not slammed busy every minute of every day has made a world of difference. It allows me to watch them work and observe how the salon flows, bounce ideas with them, be in touch with their personal life. This fills me up and I have more to give to my staff and clients. When people don't have anything to look forward to on a day to day, it's going to show in their work. Life is short, we need to have fun. We spend so much time together, we are truly like a little family. Jolene is our genius, the rock. She has these practical solutions to any issue that she just pulls out of her hat. Jess is a float receptionist and we don't get to see her much, but she's always cheery and has great random stories of facts to share. Shae and Sydney are the quiet, sweet ones who are hardworking and focused. Amanda and I are the salon crazies!"
We want to thank Chantelle for sharing her time with us, and contributing to the healthy development of business in Whitehorse.
If you are a Whitehorse Chamber of Commerce member, and would like to have your business profiled, please contact Avery Brohman at: [email protected] or message the Look Inside Facebook page. #LookInside