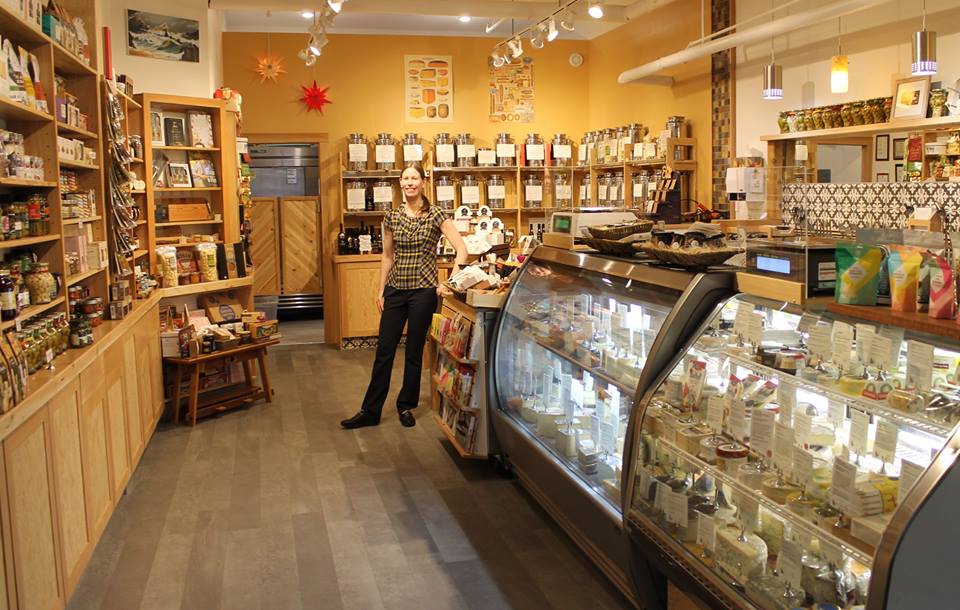 Cultured Fine Cheese was a business idea born of two dreamers. Our next #LookInside feature showcases Whitehorse's little cheese shop that could. 
Larra Daley felt an entrepreneurial tingling in her body and was seeking a change – one that would better suit her family with a young child. Larra and her partner, Stephan, hashed out different ideas and one stuck. 
"We wanted to bring cheese culture to the Yukon," said Larra. "We wanted to provide the Yukon with something that had not yet been offered here: a full service, custom cut cheese shop." 
So on June 23, 2015, Larra opened Cultured Fine Cheese in a tiny corner space in Horwood's Mall. "I was surprised and astounded that we had a crowd of eager first-day customers, and second and third… and now, nearly four years in, many of those same customers have become regulars and friends. Cultured has become a little hub for community connection and I love it!" 
Larra hasn't only fostered relationships with loyal customers, but with the products she sells. 
"With each new cheese we feature, we develop a relationship," she said. "We come to learn their characteristics and personalities, and care for them accordingly." That exceptional cheese care and knowledgeable customer service is provided by her staff of one full-time employee 'Mr. Dave', two part-timers, and Larra. "And Stephan - when he's voluntold," she added. 
"In the beginning I thought it would be a quiet little one-woman show, but I quickly came to realize that to deliver the experience and service that was important to me I needed help." 
Cultured has become so much more than just cheese and fine food, Larra explained. "Cheese is the medium through which I connect with this community. In considering starting a business I questioned whether a cheese shop could fulfill a sense of place, purpose and meaningfulness in my life. I love cheese, but I wondered if that would be enough to create meaningful employment, let alone a sustainable business." 
Recently, Larra and Stephan decided to grow their business to be sustainable. Their 135 square foot start-up shop in Horwood's mall was perfect to try out their business idea, but as time went on, the balance wasn't there. 
The staff hours dedicated just to the set up and take down each day was upwards of three hours. "Add that up over the course of a month and it either leads to owner burnout – and it did – or a lot of additional payroll – which it did after owner burnout," recalled Larra. 
The little cheese shop utilized their limited space well, but because only so much product can be displayed, the profit potential was marginal. 
"Cheese being the lowest profit margin and highest maintenance of any of our products meant diversification was essential for survival." 
Last November, Cultured Fine Cheese moved around the corner inside the Main and Front street mall to a space nearly four times bigger – allowing the business to increase their selection of carefully curated fine foods, from sweets to meats, worldly to local, pickled to smoked, and provide a dedicated space for their extensive oil and vinegar bar. 
"It was a risk to spend the time and money to accomplish the expansion," she said, "but a greater risk of regret to let the business go without giving it every opportunity to succeed." 
Larra is grateful to live and do business in the supportive community of Whitehorse. "I am always so honoured when locals are touring visitors about town and proudly introduce us as their community cheese shop." 
The feeling is mutual, she says. "I have a ton of pride for this community! Also, over time we have come to work closely with many of the local food and brew businesses and hot-spots about town. These partnerships are now an integral part of our business." 
The most memorable days of her business venture have been the firsts: "Opening day, first Squeaky Friday [when Cultured brings up fresh, made-that-day cheese curds from Ontario] first lead up to Christmas seeing the lineup curve around the corner and down the hall which was terrifying and tear inspiring." 
Larra feels honoured to be a small part of so many lives – from weekly cheese shopping to weddings, babies, and big life changes. "Everyday there are heartfelt connections and the best hugs! That is what makes me feel alive." 
There are always business-related ideas brewing in her mind, but after an exciting, intense and exhausting transition to the bigger shop, Larra's focus this year is exploring the compatibility of work and life. She says she's ready to step back and work "only full-time" to invest extra time into her family. 
"Now that many of the big learning curves are behind me and the business has a history to draw from, it is easier to plan and be present for life both inside and outside of the cheese shop." 
Visit Cultured Fine Cheese in the Horwood's Mall in Whitehorse, and check them out on Facebook and Instagram.