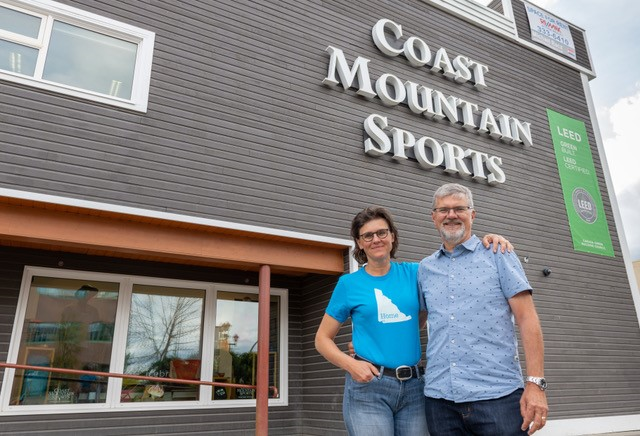 Our next #LookInside feature shares the story of a family business committed to community and business growth. Culture, charity and all things local are common themes we hear, learn and appreciate. In fact, it was this local business who started the annual day we all know and love; Yukoner Appreciation Day! 
It's true Coast Mountain Sports Yukon is in fact a local business, a small business. What started as small vision, ultimately grew to the store we all love and adore today. Mistaken often as a "big box store", this business is hardly that. 
"Believe it or not, Coast Mountain Sports had its roots in 1944 when Craig's Dad opened the first Hougen's store with the slogan "Where your dollar has more cents." Craig's father grew the 250 sq ft shop to a large store with many different departments." Owner MJ Warshawsk shares. 
We learned there was a vision, a strategic one in fact. Craig Hougen and his brother Kelly got involved with the business and bought the sporting goods department in the 80's. Craig ultimately took full ownership and expanded this Yukon business in Vancouver. Seeing the need for Southern pricing in the North, Craig bought the Coast Mountain Sports stores and opened one here in the 90's. "At the same time, our other stores were growing", shares MJ. "The running shoe, fitness and team business then became Sports Experts, and the hunting and fishing business became Hougen's Sports Lodge." 
We asked MJ, what do Yukoners need to know about your business? What sets you apart? 
"We are proud to be a locally owned business with all our products being chosen by Yukoners, for Yukoners. Our team works hard to carefully choose items specifically for Northern Life. For instance, what a Southern store or brand may call "their warmest jacket" is not necessarily warm enough for us Yukoners, and we are aware of that. In 2001 we affiliated with a national chain in a strategic move to ensure Southern pricing for our Northern communities. As a result, now, when you walk into our store you get the same pricing as you would in a SportChek or Atmosphere. Being affiliated with the National Chain also ensures us to be able to match competitive pricing at places like MEC too. One of our favourite things about being locally owned is being able to accept feedback from Yukoners on what brands and items they think we should carry. As an example, it was about 10 years ago when Frank Turner (the famous musher) was in our store telling us all about the amazing Swedish brand that is WoolPower. It is because of him that we have started carrying it and have been selling it in our stores ever since!" 
The community and people are 100% the reason that MJ and Craig love doing business up here. "There is a special kind of unique energy in the Whitehorse community and we are so grateful to be a part of it. We are extremely passionate about serving the Yukon and we take a lot of pride in being a part of the community. As a company, from the sales floor to the ownership level, we are committed to helping the community of Whitehorse thrive in whatever way we possibly can." 
Perhaps one of the greatest strengths Coast Mountain Sports has is their undeniable connection to philanthropy in our community. "Community involvement and impact is truly at the core of our business plan. Every week we are supporting events and associations in Yukon: from hundreds of items donated to silent auctions and events, to Craig's volunteer position representing the Yukon on the executive of the Canadian Chamber of Commerce," MJ shares. From the "Home" product line she started to benefit the Yukon Antipoverty Coalition, to running a boutique that will also raise money for the Arctic Winter Games, this woman is putting community first, and we are grateful. 
The partnerships and sponsorships are always unique too, from creating and sponsoring a mini snow park at Mt. Sima, to selling tickets and collecting money for local events and efforts like the Ronald McDonald House BC and Yukon and Ride for Dad Yukon. And we can't forget Share the Warmth, an annual event that has collected thousands of jackets to donate to people in need! "We are also proud to have been the ones to bring Yukoner Appreciation Day to Main Street and to the Whitehorse Chamber of Commerce, a day that has become a huge event for people in Whitehorse. We are passionate about helping and positively impacting the community any way we can and are always on the lookout for any additional efforts we can make to do so!"
As a business devoted to supporting other business, we learn that partnerships with Air North, Yukon's Airline, Skookum Brand, MacBride Museum of Yukon History, Klondike Kettle Corn, Birdhouse Baking, the Whitehorse Chamber, the Yukon Chamber of Commerce, Yukon, Canada, Bean North Coffee Roasting Co. Ltd., yukonhiking.ca , Mt. Sima, The Whitehorse Cross Country Ski Club, Climb Yukon, and the Yukon Anti-Poverty Coalition has happened. 
After so many years in the role, we are curious how one business can continue to evolve and meet the needs of the community. We learn again, it's the people. "I have to say that there is something truly memorable about each day when you work in such a fast-paced environment surrounded by so many amazing people. One thing however that really sticks out in my mind is the day we celebrated the Grand Opening of Coast Mountain Sports in our newly renovated LEED (Leader in Energy Efficient Design) Standard building. The decision to make the switch to a LEED standard building was not an easy or inexpensive one, however we felt it was very imperative to take a stand on environmental standards. That evening at the opening, a customer came up to me and said very sincerely "Thank you. Thank you for having a store for me and thank you for making the environment a priority." I could have cried as it was right then and there that I knew all our efforts were 100% worth it." 
So, what does the future look like we asked? "It is our goal to recognize the needs of Whitehorse and adapt and grow to meet them. If we're doing it right, we may never stop changing or growing! Watch for great additions to the HOME Series, watch for more local designs, watch for new product lines, watch for new advertising, watch for growth!" 
In addition to serving the needs of the people in our community, this business understands that good service starts with "their people". We observe how friendly the employees are, how clear it is that everyone who works at Coast, wants to be there. We were curious, "what is the culture like at Coast Mountain Sports"? "We are VERY lucky as we truly have an amazing, diverse, and hard-working team. We have a very fun, challenging, and hard-working culture and pride ourselves on being a "work hard, play harder" group of people. One word that comes to mind when I think of our team is PROUD. Our team is often the ones driving us, not us driving them! Craig and I are starting to turn grey (ok…Craig is grey!!) but we can't see us ever being able to get old and complacent around a team like ours," MJ proudly shares. 
To close this interview, we had to ask this community minded-duo, "Picture this, you've been away for one month and you have just returned to Whitehorse, what did you miss the most?" "We miss the feeling of our community first and foremost. We miss the warm and enthusiastic "hello's" in the stores and on the streets. But if you're talking about a particular item, I personally miss the cheese at Cultured Fine Cheese in Horwood's mall and the big hug the owner, Larra Dayley always gives me."