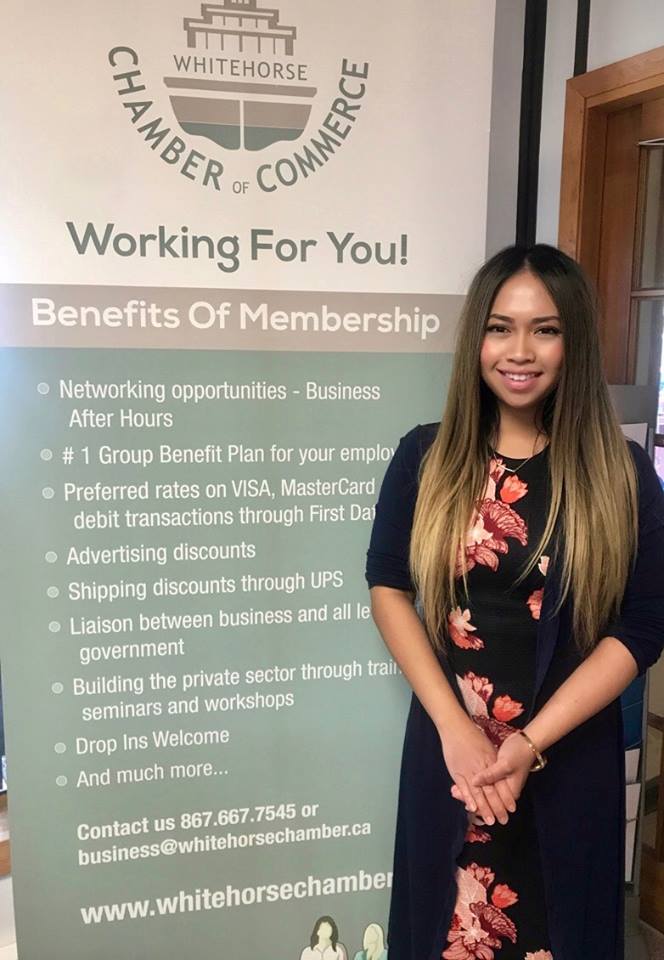 It takes an incredible team, to accomplish every event, policy and community initiative that the Whitehorse Chamber of Commerce achieves on an annual basis. It's sometimes surprising to many that these successes are driven entirely by two people; a President, and Office Manager, and supported by a Volunteer Board. It's no wonder Andrei Samson shares, "Every day at the Chamber we are tackling something different. No one day is alike, it's always busy and we are always learning, and I love that." 
Andrei has been working for the Whitehorse Chamber of Commerce for just over a year. As the Office Manager, she is the lead contact for members (new and existing), clients and visitors of the Chamber. Chances are, if you've contacted the Chamber over the last few years, you've had the pleasure of connecting with Andrei. Whether it's placing an order for a garden box, RSVP'ing to an event, or renewing your membership, Andrei is responsible for the general administrative duties of the Chamber office and the support system for the President, the Board of Directors and most importantly the Membership. "I work very closely with the Rick Karp, our President and the Board with our programs, events, and seminars workshops." It's Andrei whom organizes and manages the training and development seminars offered in by the Chamber, the incredibly popular and powerful Business After Hours events, and production and delivery of membership communications like e-blasts and the bi-weekly news Bulletins. 
Andrei's role has grown from general administration, to working closely with Leadership Volunteers in the community. Her role with Volunteer Committees includes one that focuses on the modernization of current programs, and one that focuses solely on buying local. It's no surprise that Andrei continues to evolve with the growing needs of the membership. She has become the go-to subject matter expert for many community initiatives, this because of the close working relationship she has with Rick. Her personable qualities, intuitive nature and genuine love for Whitehorse has complimented the Chamber in such a great way. She credits her professional growth to her mentor however. "Rick is my mentor, I have learned so much from him, he is an amazing boss and takes the time to share what he knows with me, I really appreciate how much he supports me and this community. I have learned so much from him". 
We were eager to share more about what the Chamber offers to its membership, and to the community at large. We asked what Yukoners need to know about The Chamber of Commerce, that they might not already know? "The Whitehorse Chamber of Commerce is the only Chamber in the north of Canada Accredited by the Canadian Chamber of Commerce. That puts us in the top 18% of all of the Chambers in the Country. That means we have sway and are called up to represent the North on many National Issues. We are here to help businesses on a day to day and even as needed basis. We represent business interests and priorities to all levels of government. Our office has been active on many files including procurement, the Modernization of the Land Titles Office, the WCB, and many City issues to name a few." 
"The Chamber is always busy. Every day we get phone calls from our members requesting help; we get calls for support from people wanting to start a business or move their business to Whitehorse; we deal with the Yukon nominee Program, the Business Nominee Program and dealings with at least six Yukon Government departments. We also get a lot of phone calls and walk ins from visitors asking questions about Whitehorse daily." 
"Finally, we have support systems in place for the business community such as our SME Training and Development programs, which last year served over 140 businesses. We also have the Yukon Business development program (YBDP) which is clearly the best Business Development Program in the Country."
Andrei encourages everyone to visit the new website: whitehorsechamber.ca, to see all of the activities they are doing for our city and local business. "It's amazing for an office of only two people and of course our wonderful volunteer Board of Directors." 
The Chamber has a meaningful working relationship with Government. We learned, "the Chamber supports businesses increasing their productivity, improving their bottom line, creating jobs and opportunities for the people who live here. We stimulate growth by working with governments at all levels, by making Whitehorse, and Yukon more business friendly and by marketing the Yukon. We are not he cusp of huge growth the next few years. According to the Conference Board of Canada we should be seeing in the mid 6% growth in GDP for the next several years. Our mandate is to make sure our community is ready and able to handle that growth."
We asked Andrei, what she values most about working in the North? Specifically, the Whitehorse community.
"The sense of community in the North – I feel that I am making a difference, that I am part of something special, that I belong. It gives you a feeling that you just don't get in the large communities/centers down south – or anywhere as far as I am concerned. In Whitehorse I get a feeling that I am somebody. As well, you meet a lot of people that are really special and active in the community and that inspires me to become the best I can be." 
This answer leads us to our next question; to share with us one of Andrei's most memorable working days. "I enjoyed being part of our Business Connects Conference and Awards Banquet. As you know it takes a lot of work to organize such events and having just two staff in the office (and of course the support from our Board) it can get a little crazy, but we pulled it off, Rick and the Board trusted in my skills to make the event successful and that was the greatest feeling of all. Working late and weekends it was all worth it and when I see the smiles of the people that attended and saying that it was an amazing event – that made me proud of myself." 
So, what does the future look like for the Chamber? 
"We have so many things going on; we are just about to launch our new updated and state of the art website, we start our training seminars, workshops and courses in September, and our Business After Hours program is fully booked for the next few months. I am really excited about the new website because we've been working so hard to make it more user friendly, modern and designed specifically for our membership. We are also working on a new workshop series on Service and Customer Satisfaction that 
Will not only help our Businesses compete with on-line shopping but will also impact our efforts in Buying local and showing that the business community cares." 
Thank you, Andrei, for sharing your role within the Chamber with us! Your talent, enthusiasm and loyal-nature is truly a gift to all local businesses who rely on the support and guidance of our local Chamber. We love sharing stories about local businesses and its amazing staff; both front-line and behind the scenes, who make our community stronger. When we #LookInside our community, we are proud. If you are interested in joining the Whitehorse Chamber of Commerce, please don't hesitate to contact Andrei today: 867-667-7545 or [email protected].