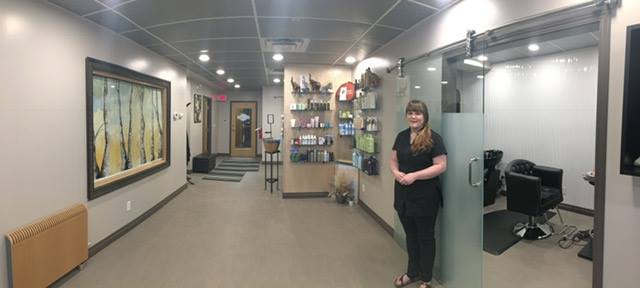 We had the pleasure of sitting down, on an incredibly comfy and fancy massage chair, with Ammanda Partridge, owner of Elements Hair Studio and Day Spa. We can't help but use the hashtag #BossLady when we think of Ammanda because her story of becoming a business owner who is continually expanding her business model to meet the needs of our community is exactly that, she exemplifies a woman on a mission to employ the best people and own the best spa in town.
Ammanda moved to Whitehorse in 2004, originally from Stewart British Columbia, and a lot has happened within those 14 years, "I think about the 10 years of my business, and I've had three expansions, entered married life, two kids, and bought a home here in Whitehorse."
But why Whitehorse we asked?
"I think that Whitehorse has a very accepting attitude, and you really believe you can do things here. SO many people can help you and support you – it's so much harder in a bigger center to make yourself unique". My clients have been coming to me for 14 years in Whitehorse, my clients are local, and I'm proud to say I currently have a 3-4 week booking wait." We were intrigued at what makes Elements so special, because after all, loyalty displayed over that kind of time frame is impressive. We learned that Elements offers a variety of services; Hair, Esthetics, Day Spa Services, Make-Up application including permanent, Spray Tan, Tinting, Paramedial tattoo (reconstructive tattoo from scaring or breast cancer).
"We are proud to be Whitehorse's only true day spa – meaning we have different rooms for each treatment, they are private areas that clients can't look in, we offer wet room body treatments, we have showering facilities, and we offer hydrotherapy service with our steam shower". In addition to the unique list of services this business provides, they also believe in giving back through corporate social responsibility. "Every year you do a fundraising campaign for clean water for "Water Aid". Something done with the Aveda Mexico Network. We give something to our clients for their donation. Last year we had local firefighters helping us do services and we raised over $3,000!"
We were very impressed with how big the spa was, located in the Best Western Hotels & Resorts Whitehorse on Main Street. "When I approaI approached the hotel first, I was 25 y,ears old and I wrote a pro's and con's list of working in a hotel." We officially moved into hotel in 2008 and I've expanded three times; and this time it's 1960 sq feet. The people who own this hotel are NVD, without their help throughout my career, I wouldn't be here right now. They didn't know me when I approached them but they believed in me. They set the guidelines and I remember them saying, "fine, but one caveat, you are going to be the nicest spa in Whitehorse".
Ammanda's approach to business in kind and positive. Her admirable work ethic was defined in Prince George where she worked as an Esthetician 7 day a week for 6 months straight. "When I got to Whitehorse, I wanted to take a break, but it was hard for me not to work, I visited KB's Esthetics one afternoon and the conversation quickly led to "when can you start?". She started that afternoon. Quickly after that, Ammmanda bought KB's inventory and equipment and bought the business.
So, what's it like being a business owner we asked? "It's busy!"
What motivates you? "I am always taking new education, always changing with the industry, I love being challenged. I love that 7 people are supporting their families here because of my business. They are also seeking professional development as well; paid education. It's amazing, and rewarding. We just offered a benefits package this year. When I was working in the industry prior to Elements, I didn't have benefits. it's so nice to see my colleagues have a successful career."
Ammanda takes great pride in professional development, she has taught the esthetics program at the Yukon College in the past, and from that has hired some fantastic local graduates.
If you haven't yet experienced Elements, we suggest you do. "We offer excellent quality of service; our service is not about quantity its about quality. We pay attention to little details. We try to make sure every service feels like a full body experience." Customer service is a key pillar in Ammanda's business strategy, "we have hosted private parties in various locations. We have also hosted parties in a Yurt! We will do just about anything for our clients."
Be sure to follow Elements on Facebook to stay up to date on specials and stay tuned for their grand re-opening anniversary celebrating 10 years in our community! #LookInside
*pictured here is Ammanda in the steam shower, and standing ajdacent to a beautiful piece of art she created for her spa*